Realistic Music Welcomes You!
We are a professional dj service that strives success and provides services from Findlay Toledo, Bowling Green, Tiffin, Lima and surrounding areas. We believe in personalized service, covering every little detail to make sure your event goes exactly as you want it.

Our objective is simple: Understand your entertainment needs, exceed all of your expectations and make your event The Premier Event that it should be. Rest assured that backed with over 15 years of entertainment experience, we will accomplish that.

You can expect on-time, courteous, professional, and fun service.  We have the equipment, the music, and the experience to handle all of your needs - small or large. Whether you're inviting 50 guests, or 500, it will be a blast!

From sophisticated and elegant to wild and crazy, Realistic Music can shape your event to suit your needs. You owe it to yourself to go with Realistic Music!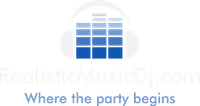 RATES
"How much money do you charge?" 
This is usually one of the first questions everyone asks when calling for a quote for their event. But, should it be the most important question? 
Based on statistics for Weddings, the DJ entertainment at your reception is responsible for over 80% of it's success! Everyone will remember the DJ so why would you wanna go cheap and get exactly what you pay for. Do it right the first time and get the pros... RealisticMusicDj.com 
We are much more than "just the music" – we ensure that your event is very memorable with complete organization and coordination of your day!
Click Here for A Quote
Feel free to browse around and check out the other pages of the site. Take your time and enjoy the music!